MediaShout 7 is feature-rich software, but designed to
be easy-to-use and familiar.
A quick overview of the most important sections of the interface.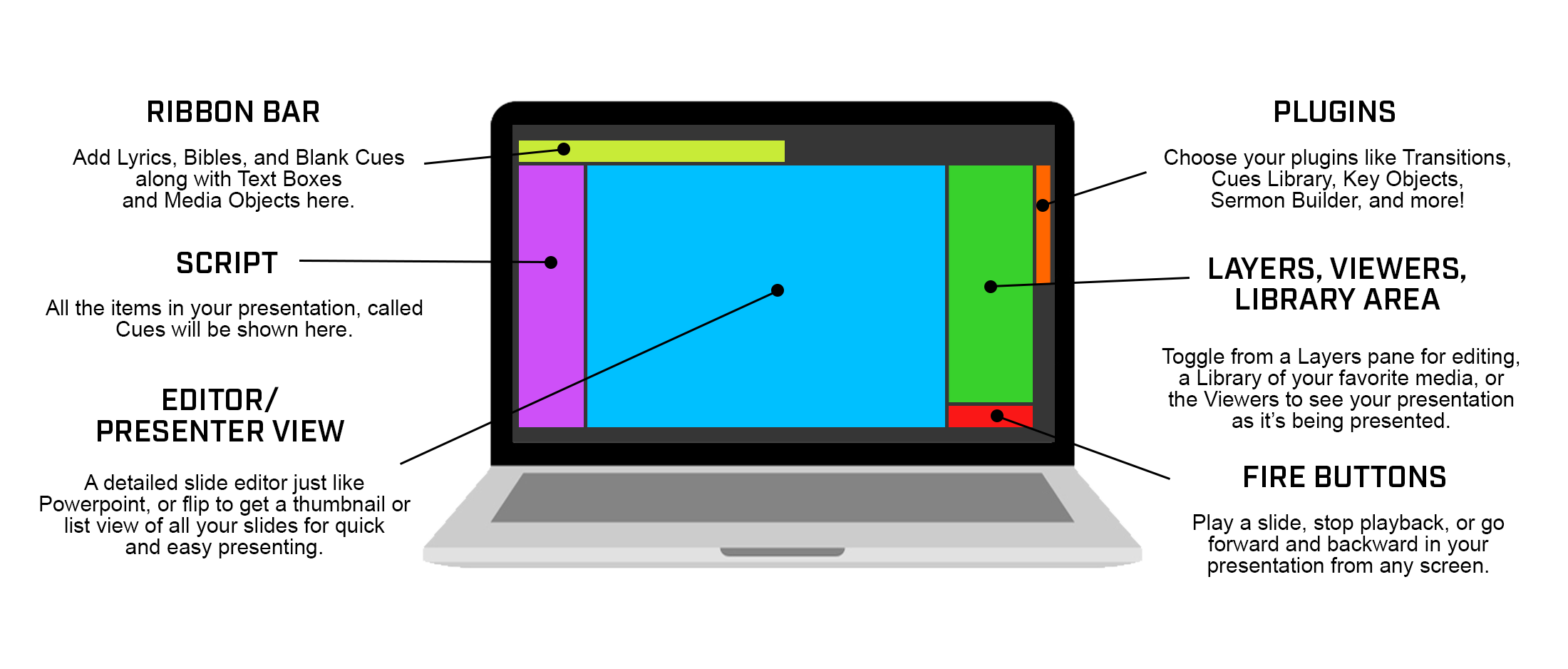 Tons more features that are coming soon!!!

We are planning on a whole list of new integrations and abilities that no one in the church presentation market is doing. Here are some things we have planned in the near future:
Import V6 Script (NOW IN 7.2!)
Although most users will simply create new scripts each week, there is the occasional time to pull in an old V6 script. We will provide tools for doing that.
Social Media Integrations
Display content from your favorite social media platform natively within MediaShout.
Mobile App Integrations
Completely redesigned Mobile Apps for running and displaying content on MediaShout's Displays.
Cue Grouping
Keep groups of Cues connected in your script and move them around or collapse them so they don't take up space (perfect for multiple Sermon Cues).
Templates
Combine multiple custom Presets from a Cue to build out a Template that can be applied at the Cue level.
In-Program Tutorial
Learn MediaShout like never before using a Tutorial that has you actually clicking on the buttons in the program to complete the task.
Cloud Integrations
Save scripts and content to your preferred cloud service easily to keep things in sync (including all of your user preferences and settings!).
Liturgies
A redesigned Liturgy Tool that allows you to create Call and Response text to display on your Main and Stage Displays.
… and tons of third-party integrations (some of which we can't mention because no one else is doing it).
Some examples are: Planning Center, Elvanto, Worshipplanning.com, BoxCast, NDI, MIDI, DMX, and more!