Revitalize your presentations with the powerful MediaShout 6.
The capability you will gain in putting together media for your services by moving up to MediaShout 6 from version 4 is mind blowing.
If you've relied on older software for several years, now is the time to look at MediaShout 6 for the same reliable performance week in and week out but with a slew of new features and a totally modernized interface.
Scroll Down to Learn More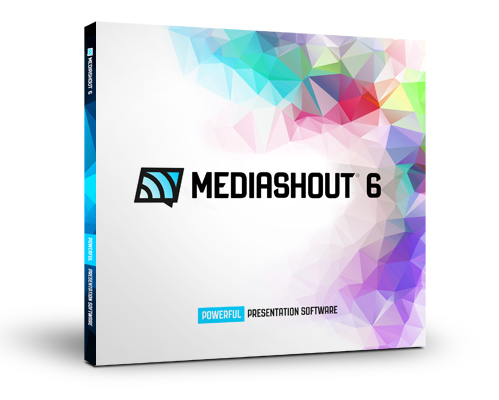 FREE USB DRIVE with purchase!  Schedule a call above.
(Expires August 31)
Are you afraid of making the leap? Don't be! While more powerful than ever before, MediaShout 6 is also the most user friendly version we've ever created. Your whole team will love the hands on experience they get creating and running presentations with MediaShout 6.
Key MediaShout 6 Features You're Missing Out On
There are dozens of new features and interface enhancements. These are just a few of the main ones.
Modernized layout
MediaShout 6 was redesigned to be simpler and more intuitive to use. This includes a responsive ribbon bar, inline editor, and theme options. We believe it is the best interface available.
Inline editor tool
No other church presentation software includes an inline editor. Now you can edit cues and slides from the preview window eliminating the need to open another window just to edit.
Layering capability
Allows more independent object layers on a cue than just foreground and background such as new Countdown/Clock Object
Dual Bibles tool
After choosing the Bible reference you want to display, you can select two different translations that will automatically be shown side-by-side. This is great for teaching situations or for multi-lingual audiences.
Built-in liturgy manager
You can now manage liturgy content as easily as you can song lyrics or Bible verses. This special tool includes features to easily handle call and response text, as well as save them for reuse later.
Lyric use reporting tool
This powerful tool allows you to easily generate exportable reports that show which songs were used during services for a given date range. The exported file can then be used to properly report your usage.
New, but familiar interface
While the MediaShout 6 interface is a complete overhaul from previous versions, we believe you will still find it familiar. We intentionally patterned the layout after PowerPoint to make MediaShout easier for volunteers to learn.  This includes a ribbon bar that put the tools in front of you when you need them.