It's that time of year again! It's time to enjoy the cooler temperatures and take part in the joy of the coming holidays. You are probably planning to get together with family and friends, and preparing media for Christmas Services at church. Speaking of church, have you thought about what Christmas themed songs for worship services you'd like to hear your congregation sing this year?
There are many choices when it comes to Christmas songs for church worship gatherings. You can always go with classic Christmas traditional hymns which are sure to bring back warm memories of families singing them over the years, or you can pick a few new Christmas songs that will reignite hearts with the joy of Christmas. There are also the Christmas worship songs that take old Christmas hymns and add new choruses or other fresh elements to add new life.
Whatever you are looking for, we hope to inspire your Christmas worship setlists with this list of our top Christmas worship songs. Check it out below and start planning your perfect Christmas worship gatherings for 2021!
1. Joy To The World (Unspeakable Joy) – Chris Tomlin
Chris Tomlin's, "Joy To The World (Unspeakable Joy)," is a great example of taking traditional Christmas music and adding a singable and catchy chorus. This is a song that will be an upbeat and energetic addition to your Christmas song setlist. 
The new chorus is added between the traditional verses and it is short and easy for churchgoers to sing along to. Here's the lyrics:
"Joy unspeakable joy
An overflowing well
No tongue can tell
Joy unspeakable joy
It rises in my soul
Never lets me go"
Try adding this upbeat Christmas song to your setlist this year!
2. Hark! The Herald Angels Sing – Jeremy Riddle
Sometimes when it comes to Christmas songs we don't need to add a chorus or any new element at all. Worship leader and songwriter, Jeremy Riddle, shows in his Christmas EP titled, "Joy To The World (Live)," that you can just add modern instrumentation to breathe new life into an older song. Every song on the EP is worth a listen, but we want to highlight his rendition of, "Hark! The Herald Angels Sing." 
This version of the traditional hymn will excite your worship band with the opportunity to get creative with their instrumentation. This song also shows that with a little creativity we can bring old songs a freshness with a few simple additions. Give it a listen and see what you think!
3. King Of Kings – Hillsong Worship
Here we take a bit of a turn from the traditional Christmas song list. With Hillsong Worship's, "King of Kings," we introduce a song that can be used year-round, but also can easily be utilized at Christmastime. The lyrics of this song beautifully tell the story of Jesus and invite every heart to worship Him. 
"In the darkness we were waiting
Without hope, without light
'Til from Heaven You came running
There was mercy in Your eyes

To fulfill the law and prophets
To a virgin came the word
From a throne of endless glory
To a cradle in the dirt
Praise the Father, praise the Son
Praise the Spirit, three in one
God of glory, Majesty
Praise forever to the King of Kings
To reveal the kingdom coming
And to reconcile the lost
To redeem the whole creation
You did not despise the cross

For even in your suffering
You saw to the other side
Knowing this was our salvation
Jesus for our sake you died
And the morning that You rose
All of Heaven held its breath
'Til that stone was moved for good
For the Lamb had conquered death

And the dead rose from their tombs
And the angels stood in awe
For the souls of all who'd come
To the Father are restored
And the church of Christ was born
Then the Spirit lit the flame
Now this gospel truth of old
Shall not kneel, shall not faint

By His blood and in His name
In His freedom I am free
For the love of Jesus Christ
Who has resurrected me"
If you are looking for a song that your church may already be familiar with that will be a great fit during the Christmas season, give "King of Kings" a try!
4. Heavenly Hosts – for KING & COUNTRY
"Heavenly Hosts" by for KING & COUNTRY would be good for a special song moment or used during a dance or drama. It has a beautiful flowing melody that captures your attention and draws you into the lyrics.
"My world's standing still
On this moonlit hill, alone
The stars fill my eyes
A strange and beautiful sight, ohhh
Then voices singing in the sky
Calling through the silent night
Bring me to my knees

Heavenly hosts cry glory glory
For the Lord is with us
Let all the earth shout worthy worthy
Love has come to save us
Holy Holy Holy
Holy Holy Holy

How could this little Child
So humble, meek and mild
Come and save me
And mend my heart and soul
The angels seem to know
Hear them singing on and on yeah

Heavenly hosts cry glory glory
For the Lord is with us
Let all the earth shout worthy worthy
Love has come to save us
Holy Holy Holy
Holy Holy Holy
Holy Holy Holy
Love has come to save us

Allelu… alleluia
Allelu… alleluia"
Listen to this song and think of ways to creatively add it into your Christmas worship song set list. There's many ways to add new songs for Christmas services. Have fun and make this year's Christmas gathering special! 
5. Adore Him – Kari Jobe
"Adore Him" is a beautiful song with a cascading melody and lyrics that tell the story of Jesus' birth. This is a song that takes the traditional chorus, "Oh come let us adore Him," and adds new lyrics to it, with a modern and congregational sound. Read them below, 
"Countless days on a journey that led so far
Endless nights they travelled to follow the star
They did not find a palace, just a humble village home
And searching for a king
But finding a child, no crown, no throne
Still they bowed down

Come, let us adore him
Oh come, let us adore him
Oh come, let us adore him
Expectation turned to mystery
For nothing was like anything they dream
Anticipating the royal and those honored by this world
Instead they gazed in the awe-struck eyes of a lowly peasant girl
Holding her child

Come, let us adore him
Oh come, let us adore him
Oh come, let us adore him
The brilliant gold
The fragrant myrrh
The costly frankincense
Placed before him

Come let us adore him
Oh come, let us adore him
Oh come, let us adore him
Christ, the Lord"
This is another great song for a special moment during your Christmas service, but can also be used as a congregational song because of the familiar chorus. 
These are our picks for 5 Christmas worship songs for 2021 that you can add to your Christmas setlist. And while there are many Christmas songs to choose from, you can always go the more traditional route and only add one or two new songs.
Christmas is special for so many reasons! The birth of our Savior is to be joyously celebrated as families come together to honor Him. We hope this list of Christian Christmas songs helps you build your Christmas worship sets as December draws near. Get creative and enjoy the planning!
Interested in Lead Sheets for these songs? Check out SongSelect for a wealth of resources!
Suggested Christmas CDs:
Christmas Worship: Paul Baloche
Christmas: Phil Wickham
Emmanuel: Christmas Songs of Worship: Chris Tomlin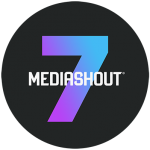 Ready to switch to the best worship software on the market?  See what MediaShout church presentation software can do for you and your ministry.  Download the FREE 30-day trial today!
Please follow and like us: