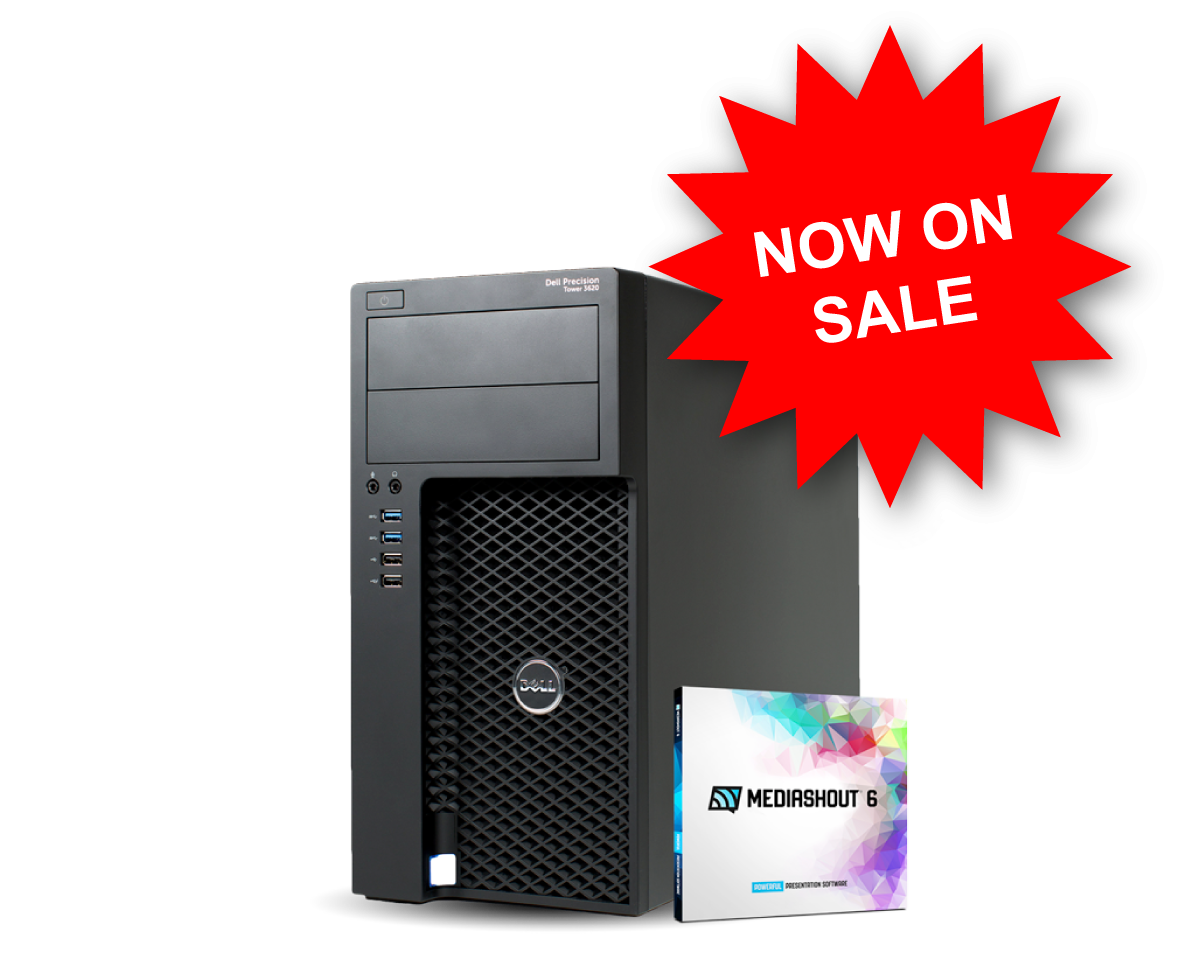 Computer bundles built for the church
Get a $30 discount on computers built specifically for church presentations, with the best church presentation software on the market already installed.
Enter your email address to get the coupon code
Sign up and we'll send you a coupon code to save $30 on our premium, standard, and laptop church computer bundles. You'll also hear about free media, church presentation tips, and more!
Each of our church computer bundles includes:
1. A computer built for church presentations
All our computers come directly from Dell and are upgraded with the correct graphics card, RAM, and memory to meet church-specific needs.
2. Top-of-the-line presentation software
When your computer arrives, MediaShout 6 will already be installed!
3. Protection against hardware issues
Each of these bundles also comes with a 3-year warranty from Dell.
Already have MediaShout 5 or 6? You're eligible for special pricing. Give us a call and we'll help you out! (888) 829-7168
Standard
$1,649 $1,619
The Standard Desktop Computer Bundle can easily handle SD presentations without bogging down your system, even when they're media-heavy. It also supports three displays—if your church is considering branching into multi-screen presentations, this desktop bundle is a great place to start.
This computer includes:
MediaShout 6 Installed and Configured
500 GB Hard Drive
8 GB DDR3 RAM (2 x 4 GB DDR3 RAM)
NVIDIA GeForce GT 730 2 GB DDR5 Triple-Head Video Card (handles SD Content)
VGA, DVI-D, HDMI Connections for Video
Windows 10 Installed
Dell Optiplex 3040
Intel i5-6500 Processor (3.2 GHz)
DVD +/- RW Drive
USB 3.0 (x4)
Built-in WiFi
3-year ProSupport Warranty from Dell
Premium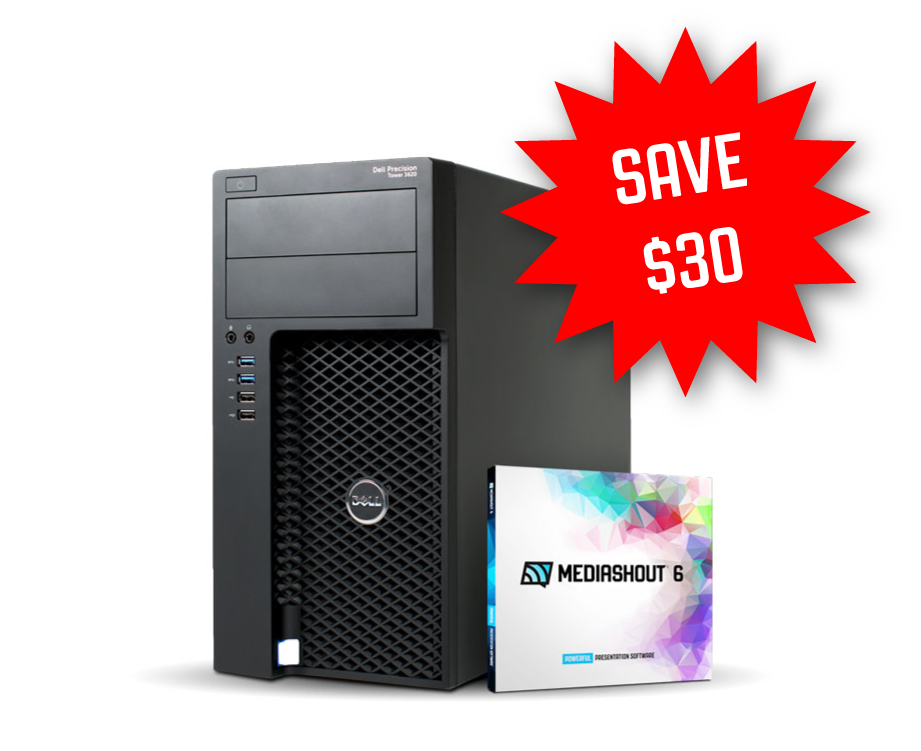 $1,899 $1,869
The Premium Desktop Computer Bundle has all the bells and whistles—it features a top-notch video card and includes aggressive storage and RAM. If your church wants to up your presentation game with large-scale HD presentations, this hardware package is for you.
This computer includes:
MediaShout 6 Installed and Configured
500 GB Hard Drive
Additional 1 TB Hard Drive
8 GB DDR3 RAM
NVIDIA GeForce GTX 1050 2 GB DDR5 Quad-Head Video Card (handles HD and SD Content)
Built-in WiFi
Windows 10 Installed
Dell Precision T3620
Intel i5-6600 Processor (3.3 GHz)
DVD +/- RW Drive
365W Power Supply
DVI-D, Display Port, 3 x HDMI Connections for Video
USB 3.0 (x6)
3-year ProSupport Warranty from Dell
Laptop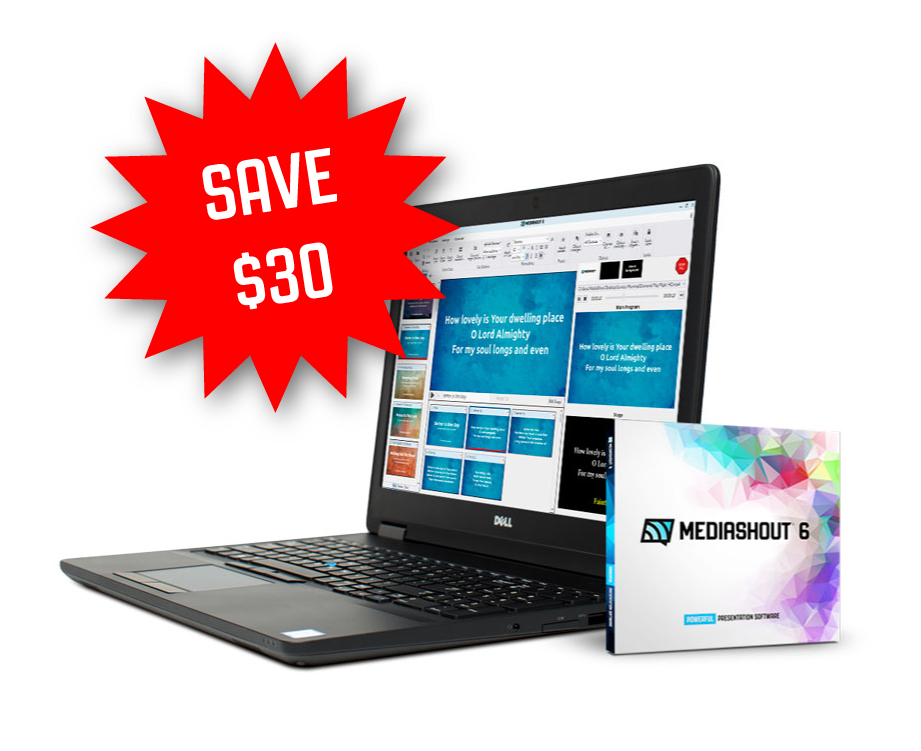 $2,199 $2,169
Churches who rely on volunteers with rotating presentation responsibilities will love how versatile the Laptop Computer Bundle is. It's perfect for agile church plants or portable churches. Also great for churches that have multiple folks putting together the weekly presentation.
This computer includes:
MediaShout 6 Installed and Configured
AMD FirePro W5130M 2GB DDR5 Triple-Head Video Card (handles HD and SD)
500 GB Hard Drive
8 GB DDR4 RAM
Built-In WiFi
VGA, HDMI, and USB-C Connections for Video
Windows 10 Installed
Dell Precision 3510
Intel Core i7-6700HQ Processor
15.6" Full HD (1920×1080) Anti-glare LED Backlit Screen
SD Card Slot
USB 3.0 (x3)
3-year warranty from Dell
No CD/DVD Drive (External CD/DVD Drives via USB are compatible)
Call us to find out which bundle you need