They're both building slides for church services.
Ryan's stuck on Powerpoint but for his software solution, Mike's using the all-new MediaShout 7.
With 70 Bibles, pre-built lyric slides, Sermon Builder, Presenter View, and flexible editing, MediaShout is clearly the winner for church presentation software. It's easy and it's FAST!
Mike finished with MediaShout in 3 minutes and Ryan is STILL working on his PowerPoint.
Let's find out WHY MediaShout is so much easier and faster than putting together a worship service  powerpoint.
1. When it comes to software for churches, MediaShout gives you the same control over your slides and video files as powerpoint, but it does so with an interface that's built specifically as worship presentation softwareThis means that whether you're displaying on the big screen on stage or a secondary screen in the back of church, the style of your slides, text, and other formatting is already much closer to where it needs to be from the get-go. No more struggling with church powerpoint backgrounds!
2. MediaShout automatically imports song information and creates lyric slides for your worship songs and has a library for you to store them in. You don't have to rebuild your songs every time you sing them or copy and paste them from separate worship powerpoint files all over your computer. MediaShout even integrates with CCLI SongSelect so you can bring in almost any song in the world with just one click, making it the easiest worship software on the market.
3. MediaShout comes with scripture ready to display. You just pick the book, chapter, and verse, then press insert. It saves you hundreds of clicks copying and pasting. If you enjoy copying and pasting for hours, sure, keep building sermon notes with powerpoint slides.  But we have a feeling that you're looking for a much more efficient church presentation software, so look no further than MediaShout!
We could go on and on, but the results of Ryan and Mike's friendly (or not so friendly) faceoff don't lie! You can download the most powerful worship software for free to try it for yourself. And when you do, you'll want to switch.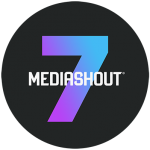 Ready to switch to the best worship software on the market?  See what MediaShout church presentation software can do for you and your ministry.  Download the FREE 30-day trial today!
Please follow and like us: