New Interface
MediaShout 6 was redesigned to be simpler and more intuitive to use. This includes a responsive ribbon bar, inline editor, and theme options.
A new, simple, and intuitive design
We wanted MediaShout 6 to feel familiar and minimize the learning curve. We believe we have met that goal and created the easiest-to-use professional presentation software available. Read more below about each section of the interface.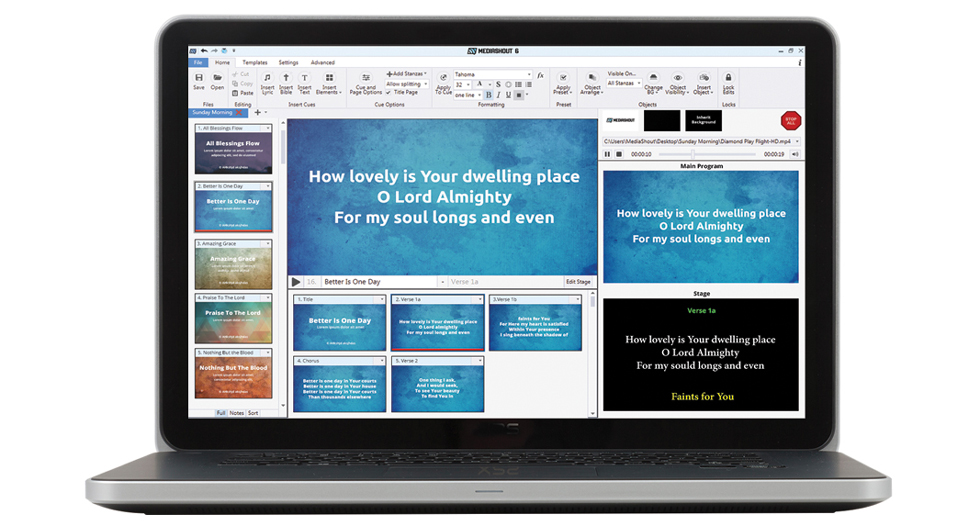 Ribbon Bar
Similar to many other programs, MediaShout has a responsive ribbon bar with tools that change based on the selected object.
Scripts
Scripts (Presentations) contain Cues that contain pages. You can have multiple scripts open at one time and tab between them.
Pages
Cues contain one or more pages. You can edit pages all at once or one at a time. Plus view pages as thumbnails or as a list.
Inline Editor
The inline editor makes creating and changing slides simple, and it all happens in the main control window.
Watch Demo
Quick Cues
Quick cues give the user a fast way to stop a presentation or fire a logo, blank screen, or background.
Customizable Views
Viewers show you what is on the main or stage displays. MediaShout viewers are fully customizable.
More Interface Flexibility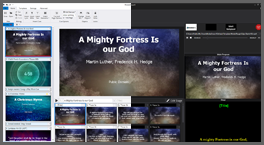 Light or Dark Theme
You can now select either a light or dark theme to the MediaShout interface control. This gives you the ability to adjust to the surrounding light to make MediaShout easier to view.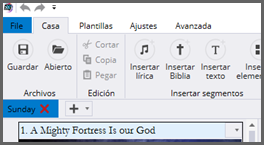 Language Options
The MediaShout 6 interface has been translated for use in the Spanish language. All menus, buttons, and instructions have been translated for ease of use. More options are coming.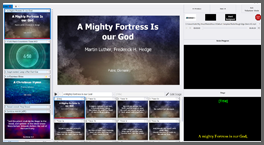 Volunteer Mode
Volunteer Mode is a simplified interface option that when turned on gives your volunteers a stress free way to run a presentation without access to edit settings or content.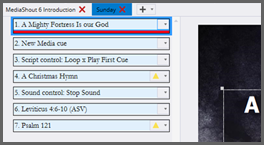 Compact View
If you want to hide the thumbnails in the script view or cue pages view, you can switch to lists. Also, make any section bigger or smaller and save as custom workspaces.
Start making stellar presentations
Give your church the best presentations with MediaShout 6. Compare MediaShout 6 to other church presentation software and see how easy it is to start presenting your sermons and worship services with the most robust church software on the planet: Check out our options online, or give us a call at (888) 829-7168.