Inline Editor Basics
The Inline Editor is the tool used to change the look and behavior of cues. This topic gives you a basic overview of the Inline Editor features.
Advanced cue editing is covered in MediaShout training. Check out our free webinars, training videos, and our YouTube channel for more information.
How to Use the Inline Editor
For help using the Inline Editor interface, see Inline Editor.
When an object is selected in the Inline Editor, formatting tools specific to that object type appear on the ribbon in the Home tab. For more information about working with specific types of cues, please see individual topics under Working with Media in a Cue.
------------------------------------------------
Understanding Objects
Many different types of content can reside within a single cue. Each element the cue contains is called an object. An object can be a song lyric or bible passage, custom text, an image, audio, video, PowerPoint slideshow, or a website. All objects are edited in the Inline Editor using tools found on the ribbon.
Objects can be layered just like in image editing programs such as PhotoShop.
------------------------------------------------
Main Object
There can only be one Main Object in a cue. Examples of Main Objects are Lyrics, Bible Passages, and Liturgies. Main Objects are created using the tools on the Home tab in the Insert Cues group. Main Objects can flow text from page-to-page just like in a word processor program. This is also referred to as paginated text.
Other Objects
There can be an infinite number of Other Objects in a cue.
Use the Insert Object button on the Home tab to insert any of the following as a new layer:
images

audio

videos

text boxes

reference information
Note: Text box objects don't flow from page-to-page, similar to slides in Microsoft PowerPoint. This is referred to as non-paginated text.
Edit Stage
Every cue has two views that can be edited individually, Main and Stage. As the names imply, these views are what show on the main presentation or stage screens.
To edit the stage view, click Edit Stage in the Inline Editor title bar.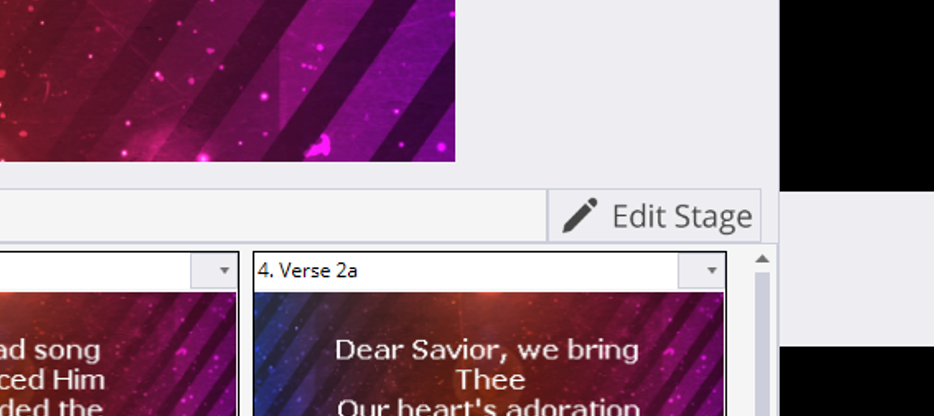 The Stage Options group on the Home tab provides tools for selecting what shows on the Stage display when a cue or page is played:
Mirror Main

. Select to set the entire cue to mirror the Main display.
The following settings apply to the selected page:
Main text

. Shows only the text contained in the page showing on the Main display.

Custom text

. Allows you to create your own text such as additional notes or prompts for the worship team. Use the formatting tools on the Home tab to format the text for each page.

Main Display

. Set the Stage version of the page to mirror what is showing on the Main display.

Apply to All

. Click to apply the changes made to the selected page to the entire cue.
Related pages: