A question we've heard many church and lay leaders ask: What makes a Sunday church service a success and what keeps the congregation engaged in a sermon and reaches the hearts of the younger people?
Engagement in the modern church is not only driven by the pastor's speaking or in the worship music but also by today's need for visual enhancements of the message. Our culture relies on visual support for many things in our lives. As science has also found, attention increases when powerful and complementary images, words and sounds are interlinked with each other. These are all elements that many churches deliver diligently each week. One of those key elements is choosing the right presentation software to help enhance the message and engage the congregation.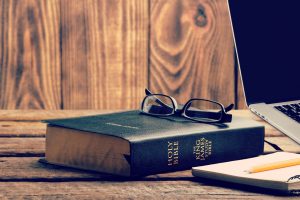 What is the best
worship presentation software?
There is a wide variety of presentation software possibilities. In fact, from our research, we have found over 50 different church-focused presentation softwares. Some of these are cutting edge while many are outdated and not designed for the latest operating systems. The regularly updated software packages are very innovative and deliver new tools and benefits not seen before in presentation software for churches. 
In narrowing down viable, modern choices, let's start with some basics.  First, is the church presentation software affordable? It's not uncommon to be attracted by the lowest price, only to find out that much of what you need is only available as paid add-ons. Your low-cost software can turn into a complicated pricey software before you realize what's happened! 
So when considering price, take into account the entire picture. Will you have to pay extra to have all of the Bible versions you need included? Is it going to cost you more money to include all of the user activations and other supplemental elements that you need? Is paying monthly more expensive than a one-time cost? Count the cost – the whole true cost.  
The second factor is stability. Without stability, you're liable to lose a lot of your precious work. If your church presentation software is stable, reliable and solid, it guarantees that every slide and every word or picture on it will be preserved. And in the case of something going wrong, having a built-in system to help back up your work is key.
The next point is usability. The main reason many buy this kind of worship software is to make life easier for non-technical team members and volunteers. This means your software should be customized for church use and should be easy to get familiar with. Check to see if your software offers substantial training materials like video or written guides and webinars. Without an arsenal of these, you'll likely miss out on a huge number of features that can enhance services and greatly reduce your preparation time. 
Taking into account the above three factors can help you find the best church presentation software for your needs. Not every church presentation software is made equal and not one software is perfect for all churches. Find the right software for your needs. But once you own it, there remains one last piece to consider. Sooner or later, you're going to need some help or want to ask a question, share an experience with, or simply consult with. Therefore, the availability of a support team and a community of users, reachable via e-mail, phone, social networks, etc. is paramount – especially support that's available during your actual service times! Having that helping hand and human factor can make a big difference. So double-check to be sure this is included with your presentation software package.  
Worship software
vs. Ordinary Presentation Software
You might be asking yourself why you can't just use Powerpoint or some other ordinary presentation software. You need to understand that church presentation software differs dramatically from ordinary presentation software. Church presentation software is built specifically for church needs.
A good worship software package will access CCLI's large database of songs and pull them directly into slides. It will include many versions of the Bible (that are easy to insert into your presentation) and some of them (i.e. MediaShout) will even show two different versions of the Bible at the same time. This kind of software program will run motion backgrounds, let you easily format a presentation, put video backgrounds behind lyrics and more. In other words, it incorporates at the highest level just about anything you might need in a church service while staying easy to use. 
Projection software
As one would expect, to gain all the benefits from the modern church software, one needs a reliable projection software with extensive media support, powerful control panel, and of course, easy to train and use. That's definitely not a thing to skimp on.
Free church presentation software
Many small churches can't afford to spend a lot of money on software for presentation, as they don't have the budget of a large church. Fortunately, there are good open source options besides PowerPoint to use, if you can't afford one of the more powerful options. Here are some of them:
Thanks to this app's integration with VLC, it is possible to put lyrics, images, Bible verses and videos on slides. Furthermore, it allows you to play music in the background (though it can't do this for videos). It also offers a  simple remote control function which allows you to manage your presentation from any place. It is available on many different OS's including Mac, Linux, Windows, and FreeBSD.
FreeWorship has numerous advantages. It makes it possible to import lyrics from different sources such as CCLI, OpenSong, OpenLP, and many others. In case that you have switched from different software, it is possible to relocate your already existing database of songs without much difficulty. It also supports many image formats and imports Zefania and OpenSong Bibles. Similar to OpenLP, it integrates with VLC. However, FreeWorship is only for Windows.
OpenSong is one of the easiest-to-use free software packages. It meets the most basic software demands, though it does lack many of the more useful characteristics of the other leading church presentation softwares. Its strong point is worship lyrics management, as it imports songs from CCLI as well as displays chord charts. Also, it's possible to set an image as a background to a Bible verse. It is available on Windows, Mac, and Linux.
EasySlides (formerly Easislides) contains fitted lyrics databases in multiple languages. The variety of languages makes this a popular application.  You'll be challenged, however if you're moving to this software from another presentation software. It will not allow you to relocate any existing database of songs from your old software to this one without a lot of painful steps (and an understanding of coding). There is also a limited amount of Bible versions and no ability to import versions from other sources. But the media possibilities are impressive. For example, it will play video and audio files with live backgrounds and even simultaneously project lyrics in two different languages. Its HTML generator also allows you to publish lyrics. EasySlides is available only on Windows.
A wide range of import possibilities is presented in this free software. You can easily import any existing worship materials from many other softwares. A large selection of Bible translations are also available. Plus, the option of adding videos and images as slide backgrounds will definitely make your presentation more lively. It has a multilingual interface and offers some great test patterns (which are very useful in ensuring that the screen is situated in the right position). Quelea is available on Windows, Mac, and Linux.
There are other free options available including WorshipExtreme, VideoPsalm, Praisenter, and many more.
Best paid church presentation software
Although there are plenty of free church presentation software possibilities to make worship more engaging and visualized, it is not a secret that paid software opens you up to more creative and feature-filled tools. Let us have a look at the best options to choose from:
MediaShout 7 is a completely redesigned and redeveloped version of this famous software. It was the pioneer in church presentation software and is still innovating with new features and ideas with each version. MediaShout 7 features such options as in-line editing, video and audio playback, full customization of text and other objects, and newly designed plug-ins to customize your presentation. An important feature is its inclusion of 70 Bible translations as part of the license. In case there are volunteers who run a presentation, you can opt for a simpler interface that removes the editing controls and shows more of your presentation on the Control Screen. On the website, comprehensive articles and video guides are presented to simplify the usage of the software even more. And it has one of the best customer support teams in the industry. It is missing some features found as paid add-ons to other programs, so it may not be the right fit for every church's need. It is available for Windows only for $399 for a single license of $499 for a site license (MediaShout 6 is available on Mac at this time).
This system does not require an upfront purchase, but rather an ongoing subscription. With the subscription, multiple accounts can be created and the software can be installed on an unlimited number of computers. Any changes that one team member makes to a presentation are saved to a cloud account so that all team members can access them. One more benefit of Proclaim is its impressive remote application and integration with Logos Bible software. It does have some design limitations for slide creation, so it may limit your creative options. In case you have any problems you can consult the support or video training. This software is available for Windows and Mac (cost varies based on church size and features).
Like MediaShout, EasyWorship 7 is an updated and simplified software package. Such basics as slide design, a wide search of the Bible translations, and media are presented in this redesigned version. It allows for the integration of video, songs, and Bible verses and you can control your presentation via its remote application. You won't have trouble getting accustomed to its interface, as it's very clear and easy, but is only available with an English User Interface. Additionally, some of the more advanced design elements found in MediaShout and other programs aren't found here. Purchases can be through either an annual subscription or one-time fee. It is available only on Windows.
ProPresenter 6 has one of the most robust editing and playback tools of any of the presentation softwares out there. It is simple to use for most churches, but still provides plenty of articles and video guides and has strong user group. However, it is also one of the most expensive as copyright Bibles are purchased per computer as well as many of the advanced tools have additional add-on costs. The base program is available for Windows and Mac at the price of $399 for a single license or $799 for a site license, but many users choose to add on additional features needed taking their costs over $1,000, which makes it one of the most expensive options (and therefore may not be suitable for many churches).
As has been demonstrated, there are plenty of options to go for worship software. Investment into modern presentation software should allow you to quickly create and display lyrics, images, videos, and Scripture verses; allow for easy editing of your presentations; save you time; and help your congregation be much more engaged in worship.