In the video above, MediaShout President and Owner, Eric Eitel, shares about his ongoing victory over stage-4, metastatic, terminal lung cancer. A lot has changed since we last emailed about Eric's diagnosis. Watch this update to hear from Eric himself about his journey. 
A Walking Miracle: Health Update from Eric Eitel
On December 30, 2018, Eric received the news that he had been diagnosed with stage 4 lung cancer with a prognosis of seven months left to live. Although a range of emotions is sure to pass through one's mind when receiving such news, Eric reflects on having an undeniable feeling of peace. He knew that if he died, he would be received into the arms of Jesus in heaven, and simultaneously had confidence in God's power to heal.
Shortly after his diagnosis, an email was sent to all 80,000 MediaShout customers asking for prayer. After all, MediaShout is much more than just church presentation software. It is a community of pastors, church staff, and church media volunteers. The response to the email was amazing and overwhelming. Eric was flooded with letters, packages, prayer shawls, cards, and thousands of emails that gave him encouragement, care, and comfort. He was seeing the body of Christ in action. Hope filled his heart as he read note after note from believers he had never met who were committed to standing with him in faith for God's healing. Eric was significantly touched by the constant theme he saw in these letters: there is hope in God and there is power in His Word. The outpouring of love was astonishing.
Lying in bed on the night of his terminal diagnosis, Eric told the Lord that he had only one weapon with which to fight and that was his faith. He gathered up every book he could find on healing and began writing down every scripture he found that declared the healing power of God. He spoke the Word of God over his body and prayed with confidence that God's miraculous power to heal would save his life.
"I shall not die, but live and declare the good works of the Lord." -Psalm 118:17
Eric's go-to scripture became Psalm 118:17, "I shall not die, but live and declare the good works of the Lord." He soon began a regimen of radiation therapy for pain relief and submitted to dozens of tests, scans, MRI's, bone biopsies, and lung biopsies. Eric spoke Psalm 118:17 to everyone he met in the hospitals and doctor's offices. During this time, he also went through the process of getting his affairs in order to ensure his elderly parents would have the comfort and care they deserve. He also made a trip to Memorial Sloan Kettering hospital in New York for a second opinion. Given the data that was available, even this world-renowned cancer hospital was only able to confirm the same grim diagnosis and prognosis. From a medical standpoint, there was no hope. 
Yet, he continued to pray and believe and was lifted up by all the letters, prayers, and scriptures he was receiving. Then one day, three months after his initial diagnosis, and with only four months left to live, Eric got a call from his oncologist with an opportunity that changed everything. His oncologist had found a clinical trial for him to consider as a last-ditch effort to slow down the disease. In his spirit, Eric felt tremendous joy. He had an ever-growing confidence in God's Word and could sense God's hand in this newly opened door.
To Eric's surprise, the clinical trial wasn't located in New York, or Houston, or Boston, but right in his hometown of Nashville, TN. Even more amazing was that this treatment was for Eric's very specific form of cancer which was so rare that doctors didn't even know much about it. And if that wasn't enough good news, he was told the treatment would be free of charge.
Instead of standard chemotherapy, Eric's treatment would be in pill form. The worst of the common side effects were only dry mouth and fatigue. Because this pill treatment was designed to target and kill only the gene mutations, the horrible side effects of traditional chemotherapy were unlikely. Instead of flooding his entire system with toxins, this treatment would just kill the source. Eric decided to participate in the clinical trial and began his treatment. The love and hope that Eric felt from his family, church, Bible study, the team at MediaShout, and customers around the world was a blessing in itself. But what happened next left everyone completely amazed.  
After falling ill in the seventh week of his clinical trial to the point of being rushed to the Emergency Room and admitted to the Hospital, Eric could not stay awake and it was feared the end was near. Miraculously, when Eric woke up the next morning to the news that the mass in his left lung had shrunk by 46%! As if that were not enough of a miracle, sixteen weeks into the trial, the mass had shrunk so significantly that only a small empty shell remained. The medical staff was amazed and told Eric that they had never seen this kind of response before. It's no question that Eric is a walking miracle. Today, he continues to take his treatments and undergoes regular testing, but no longer has to fear death. He says with a smile on his face and a new light in his eyes, "It is a miracle to be alive and doing so well."
There's much more to the story and Eric looks forward to sharing it in time, but today he shares this wonderful update and gives his gratitude for all of the kind prayers and faith invested into his recovery. There truly is power in prayer, and Eric has received so many prayers from believers around the globe that he is profoundly humbled, grateful and amazed. He plans to spend the rest of his life living up to Psalm 118:17, "I shall not die, but live and declare the good works of the Lord."
Thank you for all of your prayers, support, and words of encouragement. You have made an impact not only in Eric's life but also in the lives of countless others as he continues to share his testimony of God's healing power. Eric would also like to thank Dr. Todd Bauer at the Sarah Cannon Cancer Research Center and his tremendous team including his beloved nurses Sarah and Neil.
About Eric Eitel and MediaShout
Eric Eitel is the President and owner of MediaShout. He leads his team to provide the best church presentation software available with the best in customer service support to a worldwide user base. MediaShout is committed to helping churches of all sizes present the Gospel with a powerful, stable, and easy-to-use church worship software. You can find out more information on what MediaShout's worship software is all about at mediashout.com.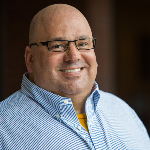 Please follow and like us: