The Bible is full of scriptures on love that help us know and experience God's heart for us. Love is the core of our faith because God is love. Studying what the Bible says about love is a great way to deepen your faith and relationship with Jesus. Are you looking for Bible verses about love? Or are you wanting to begin a Bible study on love and looking for a starting place? Check out this list of 5 Scriptures on love that will help!
1. 1 Corinthians 16:14
"Let all that you do be done in love."
What would your day look like if you did everything in love? The Bible points us in the direction of living, speaking, and doing all things in love in our everyday lives. This daily practice will transform your life. Let this verse serve as a reminder to filter everything you do throughout your day through God's love and heart for his people. Doing everything in love will not only make your heart more like Jesus's heart, but will also shine the light of Christ in the world around you.
2. John 3:16
"For God so loved the world, that he gave his only Son, that whoever believes in him should not perish but have eternal life."
John 3:16 is a verse that many followers of Jesus know by heart. It is the gospel told in one verse. It is the love of God on display for the world to see. If you are telling someone about the love of God for the first time, this is a great place to start. God loves us so much that he gave his only son to die in our place so that we can receive life eternal and life abundant.
His love for the world is so great that he chose to sacrifice Jesus to make a way for us to receive salvation. This is a great love. Because of this love we are saved, redeemed, and restored. There is no other love like the love of God.
3. John 15:13
"Greater love has no one than this, that someone lay down his life for his friends."
The book of John has many Bible verses about the love of God. This verse from chapter 15 speaks of the sacrificial love that Jesus displayed for us on the cross. In the verses leading up to this, Jesus is telling his disciples to love one another as he has loved them. He is encouraging us as his followers to keep his commands and remain in his love. 
This applies in all areas of life and relationships. In ministry, worship leaders, tech directors, and pastors are all servants of Jesus and the core of their service is love. Love for God, and love for God's people.
4. 1 Corinthians 13:1-13
"If I speak in the tongues of men and of angels, but have not love, I am a noisy gong or a clanging cymbal. And if I have prophetic powers, and understand all mysteries and all knowledge, and if I have all faith, so as to remove mountains, but have not love, I am nothing. If I give away all I have, and if I deliver up my body to be burned, but have not love, I gain nothing. Love is patient and kind; love does not envy or boast; it is not arrogant or rude. It does not insist on its own way; it is not irritable or resentful; …"
This passage from 1 Corinthians leads up to the most quoted scripture on love ("Love is patient…") and is often overlooked. But don't let yourself skim by these verses. This passage is an important reminder that no matter how much good we think we are doing with our actions and words, if they are not clothed in love then they are nothing.
Love needs to be the motivating factor in all we do. In ministry and in daily life, let love be what drives you. This passage is a great reminder to practice the ways of God's love in your every day. If you are a follower of Jesus then you will take care to make sure you let love be your guide in all you say and do. We want to be sharing the love of God in this world, not just making empty noise.
5. Zephaniah 3:17
"The Lord your God is in your midst, a mighty one who will save; he will rejoice over you with gladness; he will quiet you by his love; he will exult over you with loud singing."
Zephaniah 3:17 paints a picture of God's fatherly love for his children. If you want to encourage someone this is a great scripture to lead them to. The love of God is present at all times. God's heart for you is filled with gladness and joy. He is a loving and caring Father who takes delight in his children. This verse is a great reminder of his love!
Read this verse when you need that reminder of God's heart for you. Allow his love to quiet you. He does not condemn you or bring up your past sins. He loves you and is always near. This verse from Zephaniah speaks volumes of His great love for us, and paints a beautiful picture of the Father's heart for his children.
Love is central to our faith. God is love. To know God is to know His love. If you are serving as a leader in a worship ministry or media ministry, you know that you must serve your church in and through the love of Jesus. Loving one another and serving in church go hand in hand. We cannot do one without the other. Our actions must be fueled by the love of God. If not, then they are nothing. 
Let these 5 Bible verses about love be a starting point for studying what the Bible says about love. There are many more scriptures about love in the Bible, but these 5 are a great place to start. What are your favorite Bible verses about love? Share them in the comments below!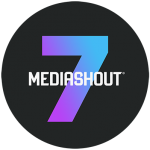 Ready to switch to the best worship software on the market?  See what MediaShout church presentation software can do for you and your ministry.  Download the FREE 30-day trial today!
Please follow and like us: