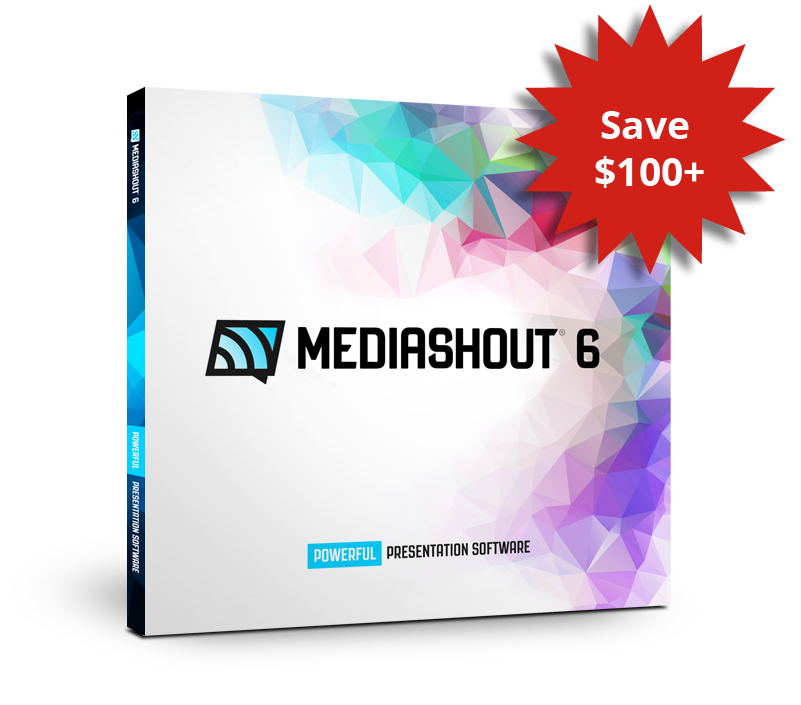 MediaShout 6 is for everyone
And now, it's more affordable than ever.
Until July 31, you can save $100 if you're buying MediaShout for the first time—and save an extra $50 or more on upgrades.
Save even more when you switch from EasyWorship or Propresenter
If you're switching to MediaShout 6 from EasyWorship (2009 or later) or Propresenter (version 5 or later), you can save an additional $50! Just have your license number handy, and give us a call at 888.829.7168 to get $150 off the regular price of MediaShout 6.
Move up from a Windows version
If you're coming from MediaShout 3, 4, or 5, we have special upgrade deals on MediaShout 6 for you. To upgrade from MediaShout 3 or 4, make sure you have your 18-digit license code on hand. Want to move from Windows to Mac, or have other questions about your special deal? Give us a call and we'll help you upgrade: 888.829.7168
Move up from
MediaShout 3
$299 $249
Move up from
MediaShout 4
$249 $199
Upgrade from
MediaShout 5
$199 $149
Upgrade from a Mac Version
If you own MediaShout version 1.1 for Mac, upgrading to MediaShout 6 will only cost you $49! We're ending support for version 1.1 on July 31, so now's the perfect time for you to upgrade at a great price and stay up-to-date. If you would like to move from Mac to Windows or have any questions about upgrading, give us a call: 888.829.7168
Not sure if you own a previous version?
Our team is available to help you through your purchase. Give us a call at  (888) 829-7168, and we'll gladly assist you.
(888) 829-7168
Not ready to make the move? Get the free trial
MediaShout 6 is the best church presentation software on the market. But you don't have to take our word for it; you can try it out free for 30 days. But remember, this sale ends on July 31, so don't delay too long!
Get started